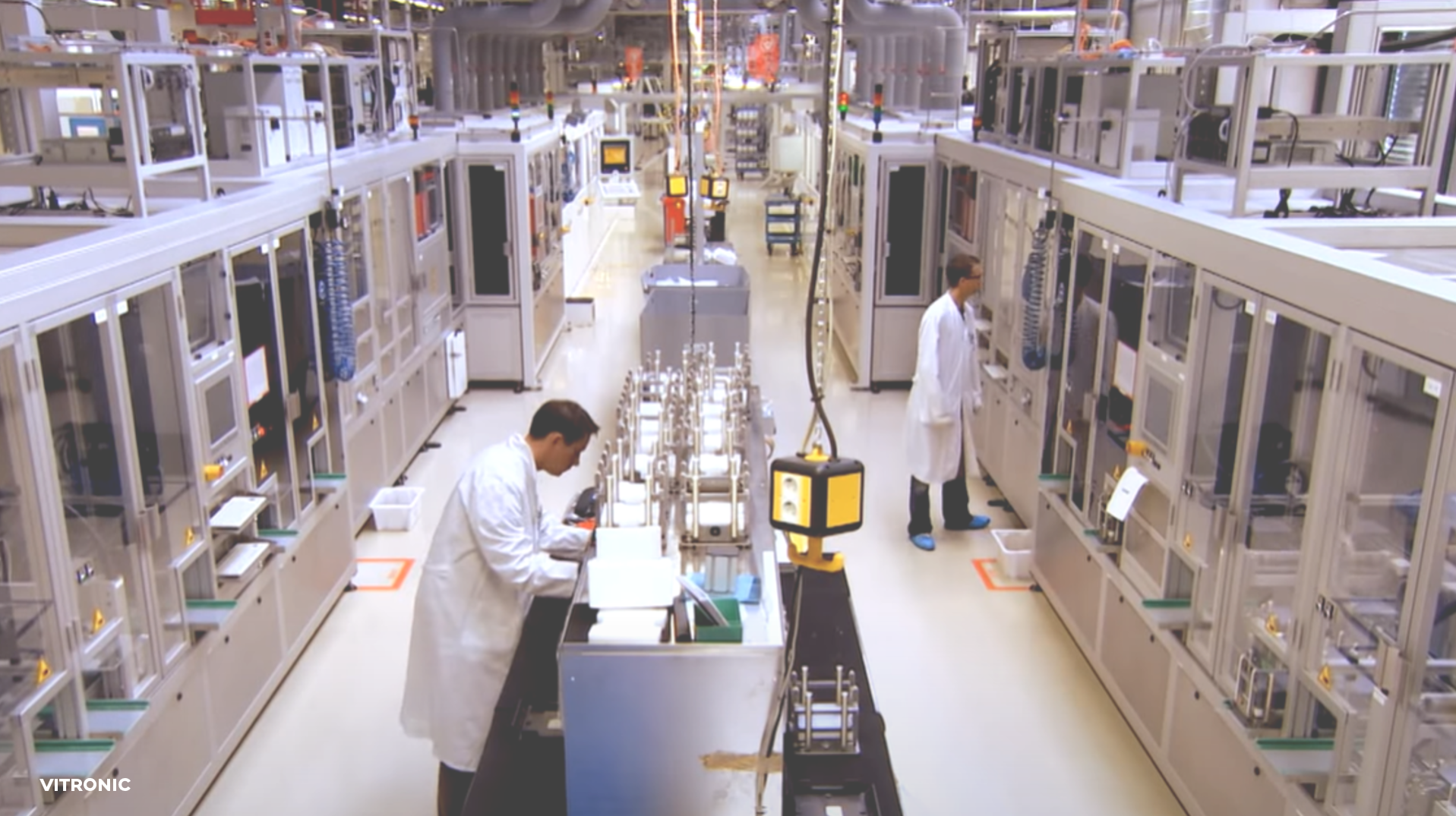 Meeting ESMC Board member Richard Moreth, also means meeting one of the most experienced in the field of Automatic optical Inspection (AOI) of PV in Europe. This is an important, but not always visible, step in the production chain, and we had the opportunity to speak about it with ESMC Board Member Richard Moreth, senior strategic consultant on battery and PV activities at VITRONIC. VITRONIC is a good example of a company that uses European know-how to increase quality and economic output.
Moreth has always been enthusiastic about the idea of producing energy from solar radiation and feels the same way now – after decades in the machine vision industry. With a background as an electrical engineer, he worked in several departments of the German company, finishing his full-time career in the automation department. Following his retirement in 2020, he keeps supporting VITRONIC part-time as a consultant. His organizational vein is strong, as he is not only on the Board of ESMC but also in Solar United and VDMA, both cooperation organizations to the ESMC.
Since its start in 1984, VITRONIC solely designs and sells intelligent camera systems, so called machine vision systems, for automated identification, guiding and inspection. 
"As a matter of fact, almost everyone in Europe has experience with VITRONIC systems, mostly without knowing. Our traffic guiding and inspecting systems, like the truck toll gantries over the German Autobahns or the speed and red-light enforcement systems on streets or the identification and sortation systems for parcels at the distribution centers, or our AOI (Automatic Optical Inspection) systems for the quality inspection of infusion needles and infusion bags in hospitals, or those systems inspecting robot welded seams at cars or for surface inspection at battery electrodes – and of course at solar cells".

Richard Moreth
The VITRONIC systems are developed for different markets and industries, and indeed, it seems VITORNIC systems are everywhere where there is some kind of optical inspection.
Name:
Richard Moreth
Company:
VITRONIC GmbH

Position:
Strategic Consultant

Location:
Wiesbaden, Germany
No. years in the industry:
42 years
THE VALUE OF GOOD INSPECTION
When asked about the specific challenges that manufacturers of this kind of equipment face, Moreth's thoughts immediately go to the customer's view. Sometimes frustrated by the view of AOI systems as being just a commodity, he argues that the right knowledge and expertise in this field can really help the company benefit from Big Data and Industry 4.0 tools and in turn reduce operational costs.
– How's that?
"We have process competence and do not only deliver tools. We see ourselves more as a technology partner on eye level and we always try to understand the root causes of defects to improve production and not only to sort at the end of the line. Our AOI systems, for example, deliver feedback data to production processes like coating, firing, and printing for optimization".
Moreth explains that with special trend analysis of the measured data, these systems can in turn help reduce costs and increase sustainability, for example through decreased silver consumption and screen lifetime. It can also enable more predictable maintenance.
Because of a lacking interest to take advantage of the added value of the AOI systems, amongst other reasons, they no longer offer their systems to Chinese customers. In order to remain competitive, Vitronic would have had to relocate engineering and production to China, like competitors did, but that did not resonate with the values of the company, says Moreth. Currently, their focus is to support the growing industries in the USA and in Europe, while still nurturing their contacts in other parts of the world.
Adding to these challenges, Moreth continues, they are of course not excepted from the turbulences of the market in parts production and delivery of electronic devices, even if they don't have a direct connection to the PV supply chain, which ESMC is actively reporting on.
THE EUROPEAN PV MANUFACTURING RENAISSANCE
One of ESMC's core activities is to convey the message to European Stakeholders that the EU is severely import dependent on extra-European hardware imports, especially from China. To alleviate this situation, that many PV markets besides the EU are experiencing, there are currently substantial efforts being made on designing and implementing support systems to boost local PV manufacturing. The US IRA is a prime example of such, which has in turn made the European Commission realize the strategic importance of clean-tech industries.
These two markets, EU and USA, are definitely in sight for VITRONIC. Their outlooks and predictions are worked out from the work in ESMC and VDMA, for example, as well as in contact with personal contacts within the ESMC. Moreth shares that "we are on the right track to support local PV production in GW scale and certain that we can compete successfully with the Chinese producers in the long run." However, the discussed support for PV manufacturing is crucial for this future to become reality, to create a leveled playing field with our counterparts in the USA and in India, for example.
Moreth is as enthusiastic about the future of PV manufacturing in Europe and USA as ever before, "We are all involved [read: at VITRONIC] fully in support of the rebirth of Solar Power production in Europe and the USA". However, putting it in a larger perspective, he sees that development must take place on all levels and places simultaneously, and faster, quoting UN chief Guterres during COP 27, "We are on a highway to climate hell with our foot still on the accelerator". He sees that VITRONIC equipment can become part of the much-needed European Solar PV manufacturing renaissance, by providing modern and cost-reducing inspection technology, of course. In his view, whatever technology is being deployed next (IBC, HJT, Perovskite tandem), there is no issues in custom-making an inspection system for the line. As a matter of fact, it is in close collaboration with their industry partners that their machinery is designed, continuously upgraded and adapted to the upcoming new technologies.
In his view, there is only one option on how to tackle the challenges ahead "to stand up, stop talking and act!". We finish the article just as we did the interview, with Mr. Moreth's summarizing words, following his previous statement; "You can't lean on a shovel and pray for a hole".